Winter Street Corridor Improvements
Waltham, Massachusetts
Summary
VAI provided transportation planning and engineering services for this $2,500,000 improvement project, in support of the proposed Verizon site redevelopment. This complex project was an extension of the newly constructed Winter Street interchange with Route 128/I-95 and required close coordination with MassDOT and City of Waltham officials. The proposed improvements included roadway realignment and extensive widening at the 3 major intersections with over 2,000 feet of roadway widening on Winter Street; installation of new traffic signals and coordinated system was provided at West Street, First Avenue and Second Avenue; construction of major drainage system and stormwater BMP's; sidewalk and wheelchair ramp reconstruction for ADA/AAB compliance; utility relocations; pavement markings and signing; and pavement milling and overlay.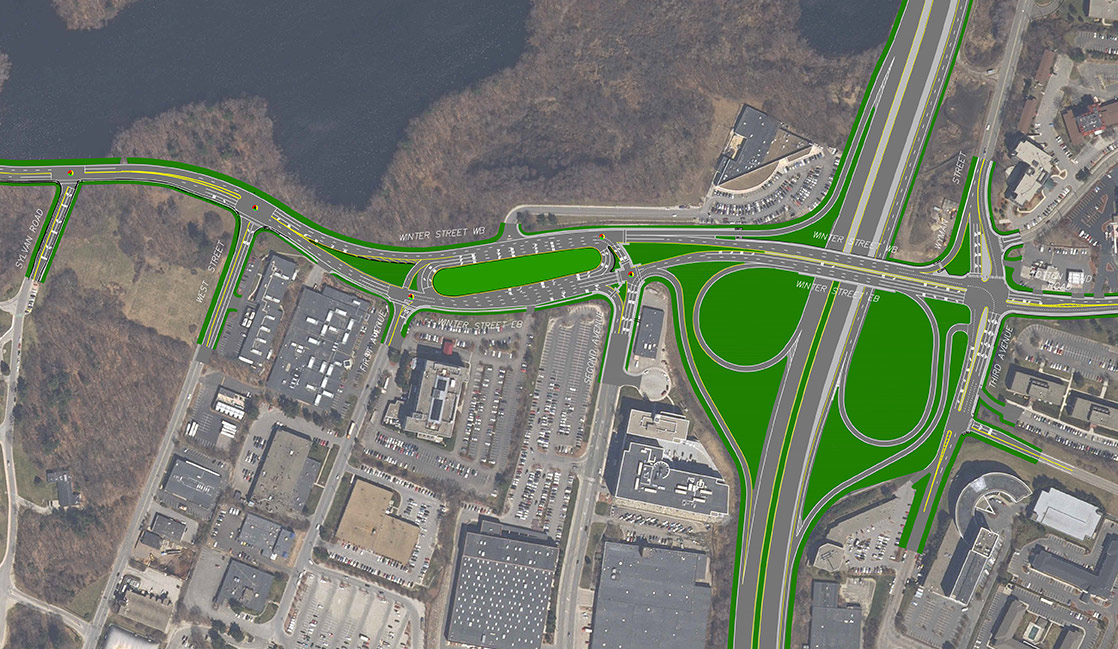 Planning & Design Services
Traffic Impact Assessment including operations and safety analysis, findings and recommended mitigation measures
Environmental Impact Report
Functional Design Report
MassDOT Application for Permit to Access State Highway
Preliminary and Final Design Plans, Specifications and Cost Estimate in accordance with MassDOT and Federal design guidelines and standards
Traffic analysis; and traffic signal layout, phasing, timing, and coordination system
Pedestrian accommodations
Construction Services
Preparation/attendance at pre-bid and construction meetings
Response to contractor questions and requests for information
Review of shop drawings
Part-time on-site observation
Temporary traffic control plans for construction operations
Utility coordination
Project Managers
Stephen M. Boudreau, P.E.
Project Status
Complete
Contact Us
Get in touch with us today to collaborate on your next project.